ACME
series
DC power supply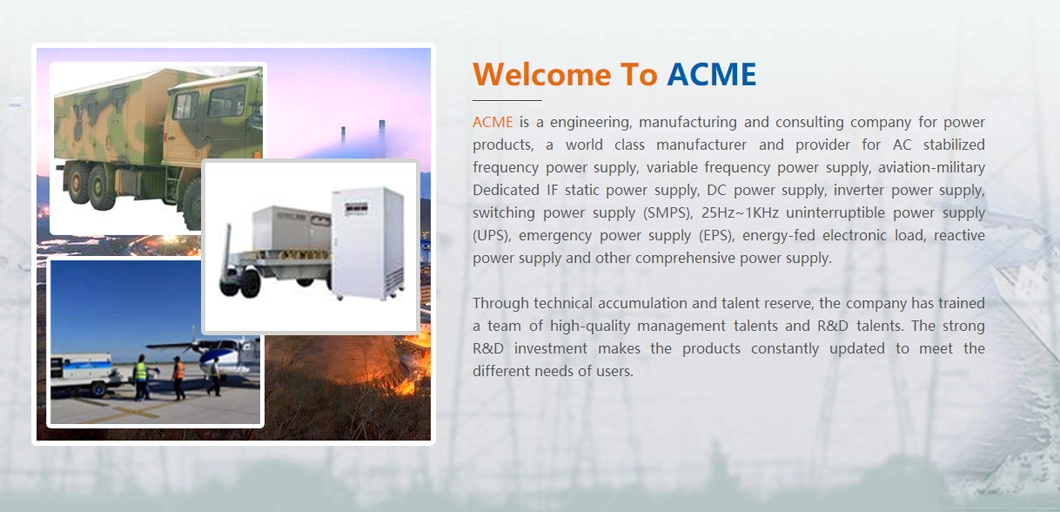 ACME
series DC stabilized current power supply is a power supply which integrates advanced international technical level and advanced control level. The power system adopts international advanced soft switching inverter
technology, and the core device developed by the latest IGBT power devices and amorphous magnetic cores, output voltage and output current of the power supply shows high accuracy and can detect and display the operation mode of their own, the convenience of users.
Power supply with high accuracy, high stability, high reliability and other excellent electrical characteristics, suitable for scientific research units, laboratory and other occasions. The power supply is adjustable, and it can be used as a fixed power supply for product testing on the production line. The power supply has the perfect protection function and the remote system function,
is simple and convenient
for the user
.
The
ACME
series DC power supply has fast dynamic response, low output ripple and strong over current capacity. It has the advantages of light weight, small volume, low noise, high efficiency, simple operation and so on. It can be applied to manufacturing, testing and maintenance of military electronic equipments
,
such as aircraft, airborne equipment, radar, navigation, etc., as well as industrial and mining enterprises, universities and laboratories, research institutes, etc.
Performance characteristics
1. s
tabilized
voltage
and
current
. Digital keyboard operation, voltage, current from zero to rated value adjustable, output voltage and current value set in advance. This product can work in the fixed voltage (CV) mode or the fixed current (CC) mode, the working mode switches automatically, and indicates the condition of the working mode via the LED. When CV-LED lights up, the power works on a
fixed
voltage mode, and when the CC-LED is on, the power is working in a fixed current mode.
2.High precision, low ripple. The DC power supply is controlled by peak current, and has good load and power regulation rate, and the output voltage and current precision are high. The output is equipped with a multilevel filter, and the output ripple is low.
3.High efficiency. The soft switching technology with international advanced level makes the power supply high efficiency, low noise and high reliability; the efficiency of the whole machine is higher than 95%.
4.The protection function is complete. There is an overload protection circuit inside the power supply to ensure the normal operation of the power supply equipment and the safety of the load.
5.Output display. The voltage and current are displayed with high precision LED digital meter.
6.Digital control. All digital control, voltage and current can be realized through digital programming; all the calibration is digital calibration, stable and reliable.
7.Remote
control
function. The power supply is equipped with RS485 interface and can communicate with the computer through the MODBUS protocol. It supports multi machine communication and reliable verification. Each 485 interface supports up to 255 power supplies and realizes monitoring at the same time. The computer can monitor all the parameters and states of the power supply remotely. The upper computer can realize remote parameter setting and control function according to authorization.
Technical
parameters:
Capacity

Control mode

PWM ZVZCS

soft switching inverter technology

Control technology

16

bit

MCU+CPLD

Input

Input voltage range

Single phase 22

0V±15%

/Three phase 380V

±15%

Frequency

47-63HZ

Output

external characteristic

CV & CC

Rating output voltage

Rating V

Output voltage range

0~

Rating

V

adjustable

Rating output current

Rating A

Output current range

0~100%

Rating output current

Source voltage stability

< 0.

5

% @FS

Load stability

< 1% @FS

ripple voltage(r.m.s)

<

0.5%

@FS

Transient response time

<10ms

Efficiency

>90% @ 100% load

Display

digital voltmeter

4 bit LED display (0.1V) specification

:±0.5%rdg+2digit

digital ammeter

4 bit LED display (1A) specification

:±0.5%rdg+2digit

Working conditions

storage temperature

-20ºC~+50ºC

working temperature

-10ºC~+40ºC

relative humidity

≤95%(no condensation)

levels of protection

IP20

atmospheric pressure

80~106KPc(altitude

below 2000m)

noise

< 65 dB at 1 meter

Protection

The input phase lack protection

Three phase input short phase protection and alarm

Input

o

vervoltage

p

rotection

Stop working and alarm when the voltage of input is

output of the range

Input under voltage protection

Stop working and alarm when the voltage of input is

output of the range

Output over voltage protection

Automatic protection and alarm when the output voltage is higher than the set value

Output overcurrent protection

The output current exceeds the set value.




a

utomatic current limiting after

delay

start.

short-circuit protection

The output end can be short circuited for a long time, and there is a sound and light alarm

when

short circuit.




When the short circuit is removed, the power is automatically restored to normal work

overheat protection

>85

ºC

protect and alarm

Insulation requirements

insulation strength

I

nput to the casing for AC

2500V/1minute, leakage current 10mA

Input to output AC

3000V/1minute, leakage current 10mA

Output to the

casing

AC

3000V/1minute, leakage current 10mA

insulation resistance

Input

to the casing

: DC1000V, larger than 20M Omega

Input

to

output: DC1000V, greater than 20M Omega

Output to the

casing

: DC1000V, greater than 20M Omega

Cooling

Forced fan cooling

chassis

Output configuration




Two output modes of output terminal with fast terminal and junction board