wholesale high quality grinding Ceramic 90% 92% 95% 97% Alumina Support Media Ball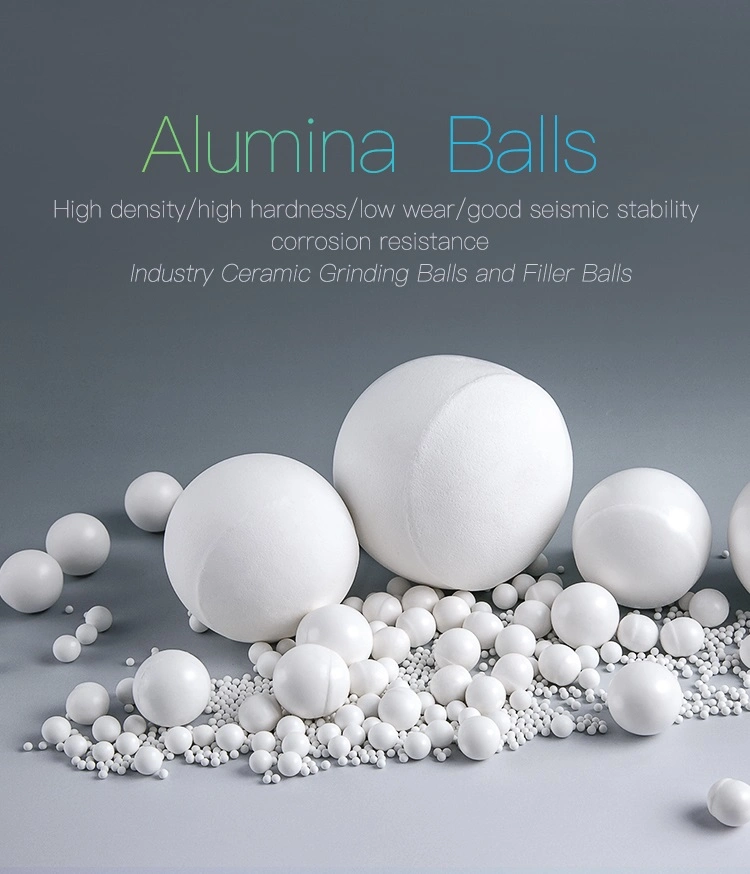 Description of product:
Item

AL2O3(%)

Density(g/cm3)

Water absorption(%)

Hardness(M0hs)

Abrasion(%)

Micro-crystal middle-alumina

92

3.65

<0.01

9

0.011

High alumina grinding ceramic ball

95

3.68

<0.005

9

0.0084

Middle alumina grinding ceramic ball

65-75

2.93

<0.01

8

<0.01

Silicon carbide grinding ceramic ball

60-70

2.8-2.9

<0.05

8

<0.08

Note:The above data is for reference only.
High alumina grinding ceramic ball

Middle alumina grinding ceramic ball

Silicon carbide grinding ceramic ball

Color

White

white,yellow

gray

Crack

Not allowed

Not allowed

Not allowed

Impurity

Not allowed

Not allowed

Not allowed

Hole

Diameter or more than 1mm not allowed Within 0.5mm in diameter to allow 3/ball.

Defect

The maximum size of 0.3mm within 3/ball.
Alumina balls:
★
Application:
alumina grinding ball is widely used in lining and grinding medium of ball mill in ceramic, cement, coating, refractory, inorganic mineral powder and o
ther industries.Environmental protection and reduction of heavy metal pollution are conducive to realizing the limit of water-soluble hexavalent chromium content in cement products cars only.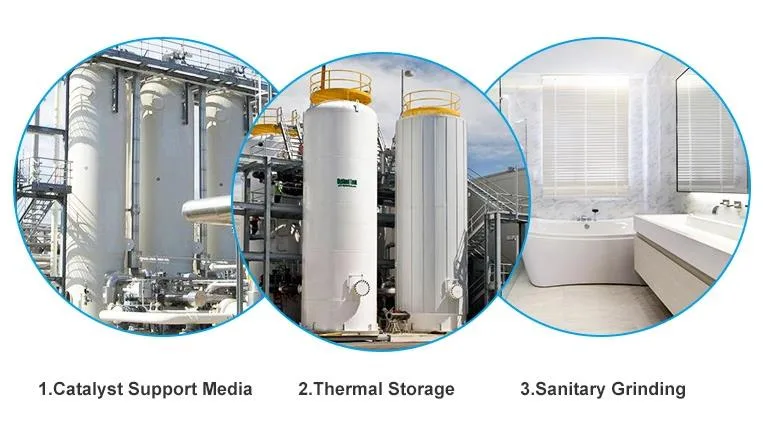 ★
Features:
Alumina grinding ball has the characteristics of high hardness, high density, low abrasion, smooth surface, corrosion resistance and so on.
★Product performance indicators
| | | | | | |
| --- | --- | --- | --- | --- | --- |
| | | | | | |
| | | | | | |
| | 9 | 9 | 9 | 9 | 9 |
| | | | | | |
| | | | | | |
| Equivalent wear Abrasion ≤ | | | | | |
Conventional products: Alumina wear-resistant spheres: Φ1-Φ10 (mm), Φ13-Φ25
(mm), Φ30-Φ60 (mm), Φ70-Φ100 (mm)
Alumina wear-resistant cylindrical ball: 20mm*20mm, 30mm*30mm
★ can be customized according to customer requirements
Factory show: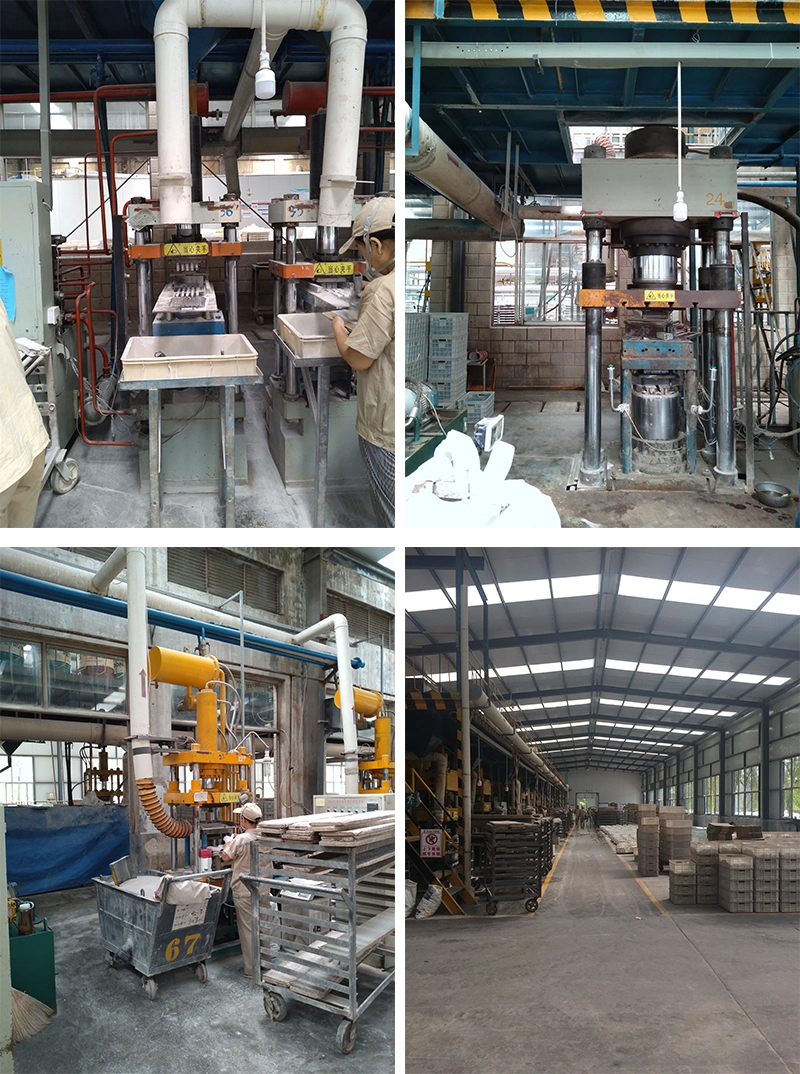 Company Introduction:
Zibo Chaoxin Ceramics Technology Co., Ltd. as a new and hi-tech ceramic manufacturer with excellent abilities of technology research, manufacture and distribution, is located in Zibo National New and High-tech Industrial Development Zone in Shandong Province, China.
We mainly produce various kinds of fine ceramic products, which in material of zirconium oxide (ZrO2), alumina (Al2O3), zirconium silicate (ZrSiO4), mullite (A3S2) and composite oxide ceramics. Products include ceramic grinding ball(diameter 0.3mm~30mm), Ceramic Liner(mud pump spare part), Ceramic Plunger(oil pump spare part), Alumina Lining Bricks(ceramic ball mill machine), Wear-Resistant Sleeves, Wear-Resistant Lining Tiles/Mat, ball mill machine, Cyclone, and chemical ball, etc.
Structural ceramic products are with excellent performances, such as wearing-resistance, erosion-resistance, high-temperature-resistance, high-strength, high-hardness in the working conditions in which metal or polymer ones cannot do. With functions of the most advanced manufacturing equipment in ceramic field, our structural ceramic products such as ceramic liner and ceramic plunger are with better performances(improved by 5 to 10 times), have been used widely in many oilfields and petrochemical enterprises in the chemical industry.
The company has 3 automatic 1750 degree high temperature tunnel kiln and shuttle kiln, and equipped with advanced detection device. The products are widely used in the field of ceramic, steel, mining, petrifaction, chemical, medical, coal fired power generation, cement, mineral processing industry, etc.
Most of structural ceramic products from Zibo Chaoxin have occupied domestic leading level. some have reached international leading level. Ceramic liner and plunger, in particular, have been used widely in many domestic oil field and exported to international market, such as North American market, Middle East market.
Trade Show: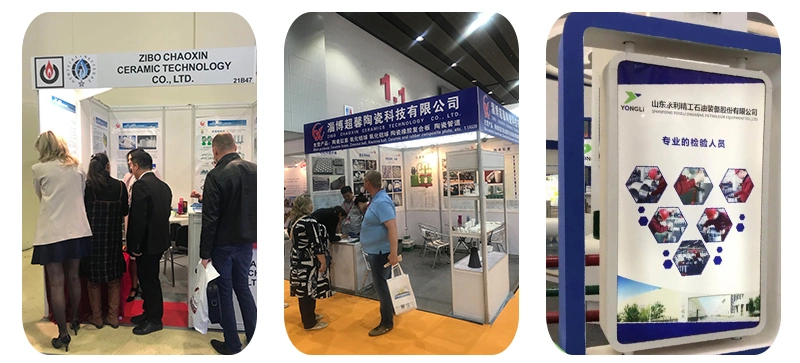 Packaging & Shipping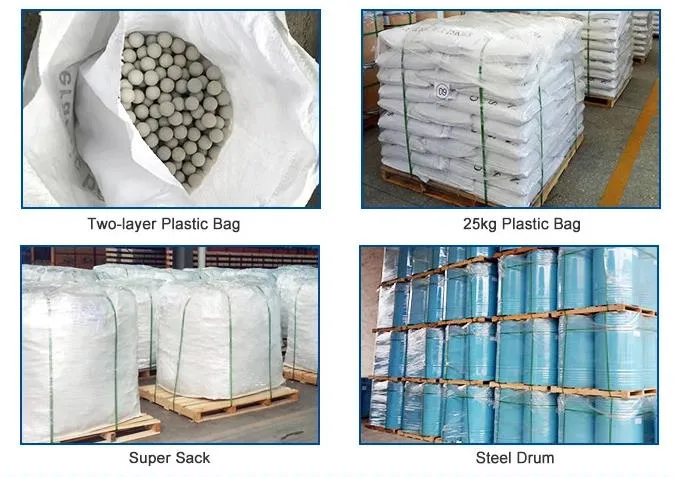 FAQ:
01.Product packaging
Depending on the situation, generally fumigation-free trays

02.Product production cycle?
A small number of products? How much
Different products should be different, can you give a rough range? Such as 3-14 days or 7-30 days

03.Production cycle of customized products?
A large number of products? How much
(Inferred from lead time)

04.product lead times 3-7 days, large 7-15 days, or? ?
Delivery is generally 5-15 days, except for stock and drawing customization
The spot generally uses the payment voucher as the delivery date, and the customization may be delivered within 15-35 days according to the actual situation.