Product Description:
ceramic infrared heaters are made out of ceramics. These emitters have a Nichrome (NiCr) wire directly casted into ceramic and they produce temperatures from 300 deg F to 750 deg F. The wavelength produced with at these temperatures is between 3 6 microns. They feature a glazed surfaced to avoid for protection from oxidation and corrosion. Typically ceramic infrared heaters need 10 15 minutes to reach full operating temperature. A thermocouple can be casted directly into the ceramic. Ceramic infrared heaters come in different colors which may indicate the temperature range. Some of ceramic infrared heaters also change color when hot in order to easily recognize failed elements in a heater bank. They come in different shapes. A flat surface spreads the infrared energy over a wider area, while a concave surface focuses the energy more to a desired spot.Ceramic infrared heaters are used for comfort heating, saunas and for industrial heating application requiring lower temperatures.
We have standrad size 245*60mm,240*60mm,122*122mm,122*60mm,60*60mm ,then we can do as customer demand size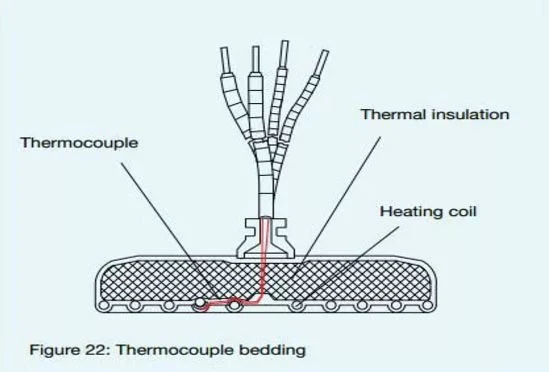 Product Parameters:
Product Details:
1. Nickel chrome resistance wire(NiCr20/80)
2. Color: White/Black/Yellow
3. Type K thermocouple mounted internally in center heater. Optional type J thermocouple is also available.
4. Heater Voltage: 120V 220V 230V 240V 480V standard (other voltages available on request)
5. Useful wavelength range: 2-10 microns
6,Operating temperature is 300°C to 700°C (572°F - 1292°F)
7. Average Operating Life-Up to 20,000 hrs depending on conditions.
8. Recommended radiation distance from heater is 100 mm to 250 mm.
9. Supplied with 100mm ceramic beaded power leads
Product Photos: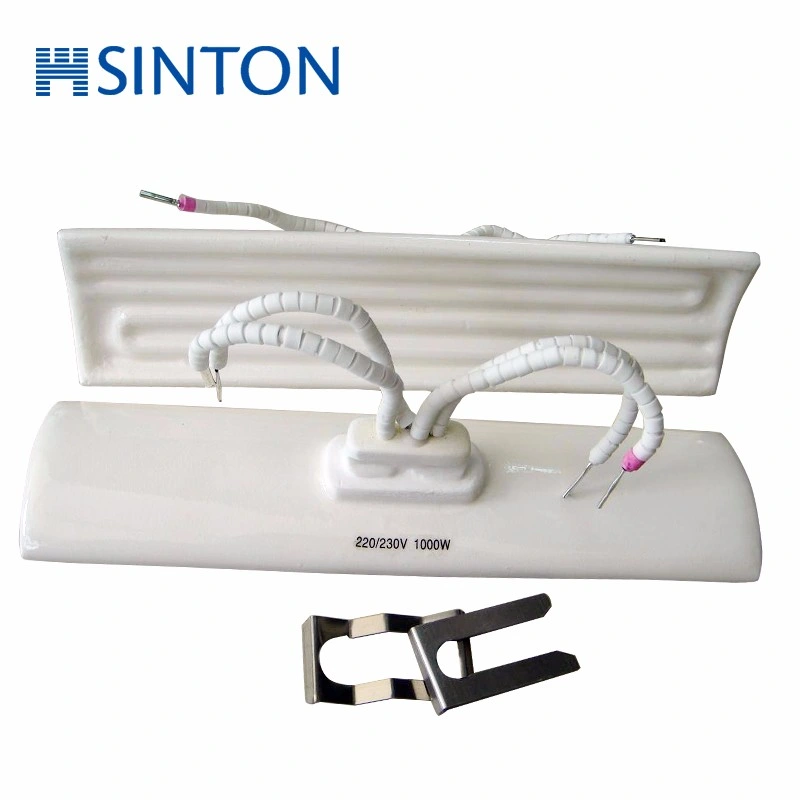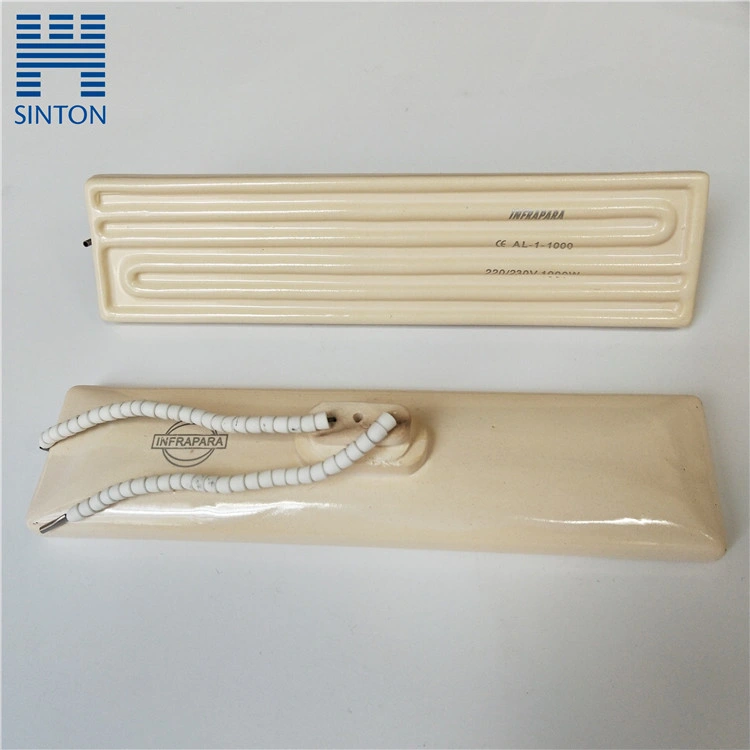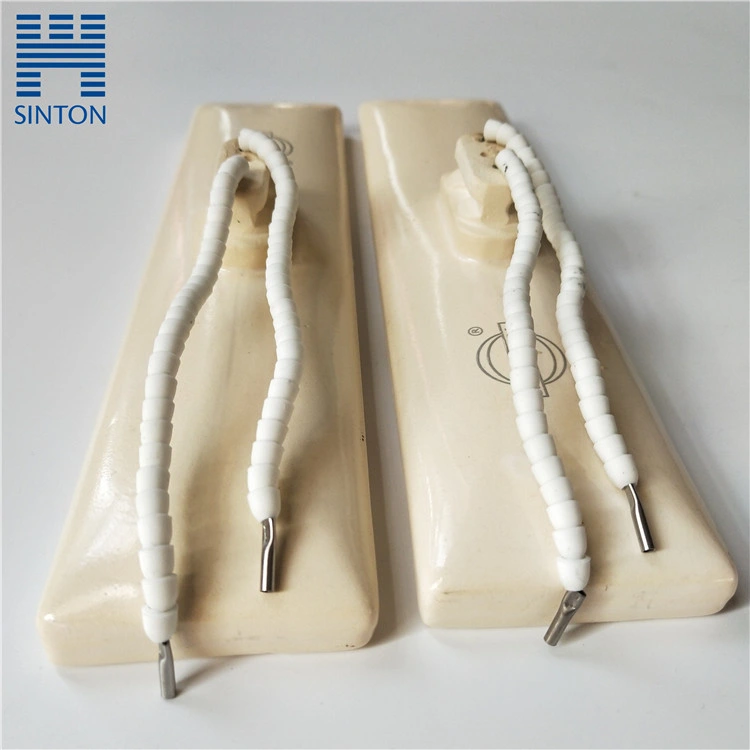 Features:
1 .Embedding type ceramic far infrared radiated elements apply glaze with high radiance,ceramic with good heat and shock property are sintered once by nichrome wire.
2.
Heat losing in the non-radiation surface is small.
3.
It has energy efficiency and environmental protection benefits
4.
The radiated element is heated after electrifying to rating power and immerged into cold water after interruption of power supply for forty times without damage.
Applications:
1.Heating in PH environment (for example: Footwear processing, tape, plywood heating).
2.Stove machine with major vibration or impact (for example: Vacuum forming machine , Compression Molding Machine).
3.Short distance heating (for example: Printing ink dryer, PCB repair station, Electric heating tables).
4.Heating in vertical or half round array (for example: Angle iron,Aluminum windows paint stove) .
Our Company:


SINTON ELECTRIC CO.,LTD. was founded in 2001,formerly known as the manufacture of electric heating element and heaters, the group's total assets are RMB120 million, with 360 employees. Our main products are tubular heating elements, band heating element, flexbile heating elements and other heaters for example explosion-proof heater ,air duct heater,pipeline heater, From embarrassingly short of money to group mangement model, at present, we integrated research, development, production and sales the products are exported to 12 countries in the world,Mainly Europe and America with strong product independent research and development capabilities and technological innovation. The work has obtained the explosion proof authentication,many patents authentication, the quality system authentication.
Certifications: